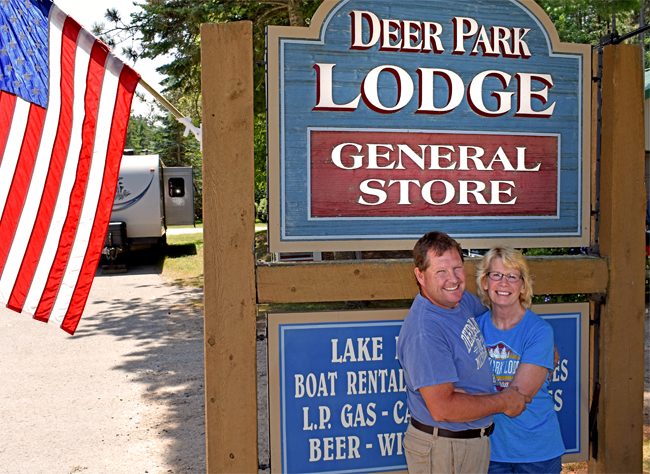 Deer Park Lodge Resort on Muskallonge Lake
Upper Peninsula Vacation Rentals on the Lake

Owners & Your Hosts, Rick & Kristi Jackson
We are proud to introduce ourselves as the new owners of Deer Park Lodge the "Hidden Gem" of Michigan. Rick and I have a rich Michigan heritage and look so forward to sharing that with the many visitors at Deer Park Lodge. To introduce ourselves, we are going back to our childhood where we first fell in love with the UP. My family always took their vacations in the summer to the UP. We had a little pop up camper and traveled all over staying at many different state parks and campgrounds. We visited all the tourist attractions more than once and stopped whenever my parents found something interesting. We spent many hours on the shores of the Great Lakes just playing and hunting for rocks and drift wood. It was the best time and I always dreamed of living on the lake and now that has come true.

My parents, who were farmers, taught me the beauty of land and nature. The first time I saw Deer Park Lodge, I was in love and wanted to spend the rest of my life there.
Rick's childhood years were spent with his family at the Hiawatha Sportsman's Club on Lake Millecoquins where his Mom and Dad and grandmother, Geraldine Jackson, taught him how to fish, pick blueberries and enjoy the back country. These were the best memories of his life. Rick started his journey to the UP at age 5 and it has continued throughout his life. He purchased land and constructed his own cabin on the Little Two Heart by Pike Lake where he instilled in his children the love of the UP also. His adult UP experience was mostly in the winter so his love of snowmobiling, snowshoeing and winter hiking was and still is a great passion of his which he has passed on to me.

Rick and I were married January 2, 2015. We are both entrepreneurs. I have been a Chiropractor for 20 years with my own practice and Rick has a long history in the trucking and mining industry.
We invite you to visit our Deer Park General Store. We are open 7 days a week. We carry grocery items and fresh dairy products, as well as beer and wine. There's first aid kits, camping supplies, fishing supplies, bait and licenses. Plenty of ice, fire wood, and L.P. gas refills are available as well.

We look forward to meeting each and everyone of you. We are so excited to call the UP and Deer Park Lodge our home at last.

"We have everything you need and more here at Deer Park Lodge on Muskallonge Lake. Our rentals cabins are clean, cozy and reflect the earthiness of Michigan's Upper Peninsula. Our General Store offers a great selection of food, gifts, beer, wine, clothing, hats, camping supplies, fishing supplies, tackle, rods and reels, nets, along with live bait. We invite you to find your "Four Seasons of Fun on Muskallonge Lake" right here at Deer Park Lodge. We look forward to hearing from you!"—Rick & Kristi Jackson, Owners and Hosts