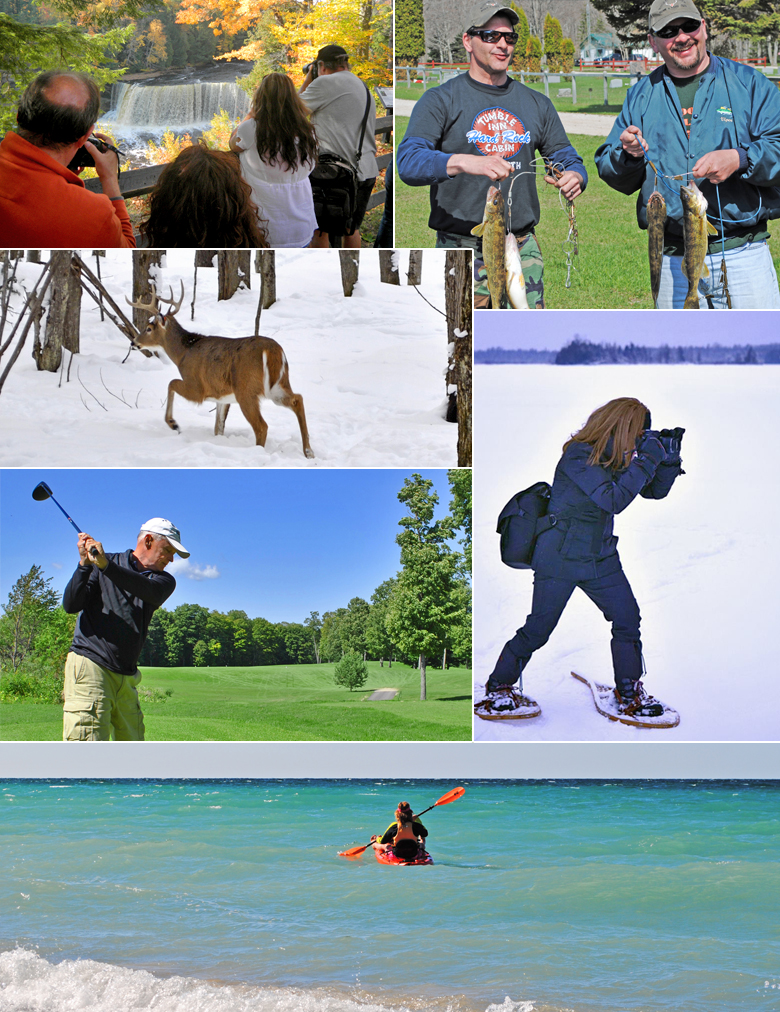 The warm season offers up some great things to do. Our guests love to visit the Upper Peninsula to utilize our lakes, both Muskallonge Lake and Lake Superior for beach combing, sight seeing, kayaking, boating, fishing, tubing, agate hunting, and watching beautiful sunsets. Deer Park Lodge Resort also has rental boats for visitors to the area. To learn more about our lakes, please visit:
♦ Our Lakes
♦ Boat Rentals

Spring, summer and fall is extraordinary in Michigan's Upper Peninsula. Every direction leads to adventure for all ages. Visitors can enjoy mushrooming, hiking the North Country Trail just down the road from us, biking, sight-seeing, bird watching along the Tahquamenon corridor up to Whitefish Point Bird Observatory, viewing the fall colors throughout the region, along with a host of other great things to do.

Fourth of July Parade is held in Newberry every year with a special Old Photos Show held at the Tahquamenon Area Schools gymnasium.

Blueberry picking in August is really awesome fun for the entire family. From the shores of Lake Superior inward towards Newberry is one of the finest places to pick in the UP.

The Tahquamenon Logging Museum offers up a Paul Bunyan sized list of events such as: The Annual Woodchoppers Ball in March, Lumberjack Breakfasts with huge servings, along with 2 Music Festivals. Visit the link below for exact dates because they do change each year.
♦ www.tahquamenonloggingmuseum.org

The Newberry Country Club is open to the public and is situated on 200 pristine acres. This Upper Peninsula golf course has been redesigned with new bunkers, lengthened holes and new tee boxes, thus adding length to the entire course. This golf course is located 27 miles south of the resort with a lovely restaurant as well.
♦ www.newberrycountryclub.com

Another great fishing opportunity awaits at the Lower Tahquamenon falls, with boats available for day rentals.

Lighthouse exploring is big here in the UP, with 2 major lighthouses being Crisp Point Lighthouse and Whitefish Point Light House.
♦ www.crisppointlighthouse.org

Fall and winter adds another level of excitement for guests with skiing, snowshoeing, hunting, ice-fishing on Muskallonge, Big Valley Ski and Tube located south of Newberry at 14432 County Road 428, along with other great annual activities.

During the winter you won't want to miss seeing the Christmas Bells and Lights of Newberry - up around the Christmas season. It is much like the movie, "It's a Wonderful Life".

The Tahquamenon Falls State Park is the place for photographers, hiking, boating, eating, gift buying, and experiencing some really wonderful events like the annual "Lantern Lit Snowshoeing" through the woods extravaganza.
♦ Tahquamenon Falls Events

"Michigan's Upper Peninsula has been named one of the top 10 value destinations in the world. With attractions to rival national treasures, Michigan's Upper Peninsula is an area of stunning natural beauty and charming Norman Rockwell-esque towns and villages."—Lonely Planet Travel Guidebook, "Best in Travel 2017"